Smorgasbord
MAG
September 20, 2014
Let them come in
My delicacy is ready
Made it with all I had
Just to make them happy.
Powdered my face
Put on some eyeliner
Highlighted my lips
With the sweet shade of cherry.
They arrived with silver knives
Each one carved with an insignia of might
Advancing with care
They sit at the table
On which the feast lay
Wholesome and untouched.
They cut open the stomach
Scooping the meat inside
Kept going till only the epidermis survived.
It being too sour for their tastes,
They left it looking like a limp red sea.
The bloody insides were served in
multicolored penny licks
Next they decided to cut open the brain
A wise option, since they were thirsty
And apparently the brain takes three seconds to melt
They left a shell where there was once somebody.
Let them come in
For I'll serve myself as dinner everyone craved so voraciously,
I've nothing else but this worthless body.
Not anymore, I don't have that too.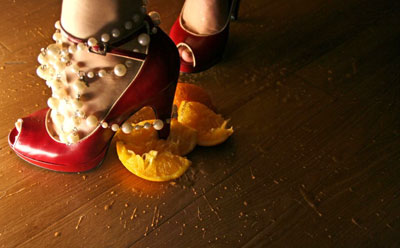 © Amber L., Carpinteria, CA