The Virgin
August 11, 2014
I held out my pinky finger,
tenderly, gingerly,
offering the frailest part of myself
just to see what would happen.
So, so gently
I hardly noticed it at first,
insignificant drops of rain
danced on the tip of my flesh,
bashfully finding partners and tempos
until a fragile,
ceremonious waltz began on my finger.
All the while,
nature swirled around me,
falling tree limbs and tearing through lavender gardens.
A whirlwind of turmoil.
But me, I remained in a deceptively calm oasis,
too captivated by the little rain pixies
twirling on my pinky
to notice the destruction around me.
But then
right in the middle of two fairy kisses
the terrifying bay of thunder came roaring
through the silence and through my fingers,
knocking all of the aquatic nymphs off of their pedestals.
The deafening wail that comes with the end of blissful ignorance
tore through my knuckles and down to my rosy bones,
leaving me a grief-stricken widow
to the innocent and unseen parts of the world.
As I kneeled, trembling, on my knees
questioning the audacity of such a callous hurricane
I began to feel a familiar sensation of little drops
dancing gently on my pinky.
With the last face of hope that will ever exist
I looked down
and watched my pinky bleed,
tender, small, roseate drops falling into oblivion.
I sighed as I felt my feet rise from beneath me
taking me to my rightful, sleepy place
as a groaning wind in the eternal hurricane.
And then I understood.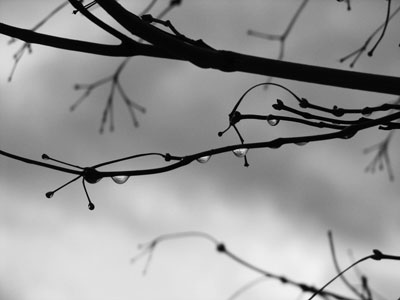 © Carly M., Hopedale, MA