Raging Storm (or Iowa Weather)
May 30, 2014
The clouds amass on the horizon
As the sun is engulfed by the dark,
Before it can slink behind the skyline.
Lightning forks and explodes above,
Ricocheting across the clouds,
Shattering the darkness for an instant.
Children count as soon as it starts.
One one-thousand,
Two one-thousand,
Three- BOOM!
Thunder breaks apart the thoughts,
Rumbling menacingly,
As it growls from the depths,
of the cavernous clouds.
Torrents of rain pour down,
No longer raining cats and dogs, but panthers and wolves.
Lightning their growls, hisses and barks.
One one-thousand,
Two one-thou-BOOM!
The storm gets closer.
Drops no longer bruise a flower's delicate petals,
But rips it to shreds, mauling its delicate frame.
If that weren't enough brutality,
The wind howls and gusts unforgivingly,
Making not just the grass, flowers and leaves bow,
But makes grand old oaks kneel to its might.
One one-thou-BOOM!
The oncoming storm is now upon us,
As lightning is a furious blue and thunder rages above.
Umbrellas stand useless to fight this storm,
And our houses seem to quake at the thunder's fury.
A new explosion joins the chaos, as the electricity blows.
We are cast into darkness, but the clouds above are darker.
The storm rages on, as we light our candles,
As outside, all hell breaks loose.
Then
As soon as it happened,
The rain stops all together, the thunder now rumbling in the distance.
No lightning to be seen.
The clouds have vacated, and now the stars smile down,
This too has past, as the world keeps spinning.
If you don't like the weather, just keep waiting.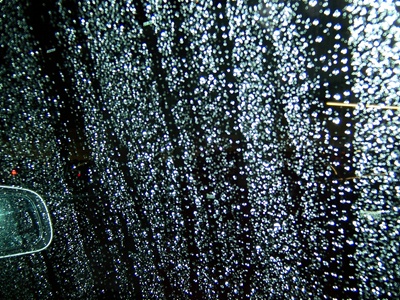 © Jessica L., San Jose, CA