My Love, My Life
May 31, 2014
Slowly, gently, I lean over and wrap my arm about her waist.
Her skin is soft and warm,
As tan as the sand of the sea shore.
She leans her head against my shoulder.
Smooth locks of rich brown hair cascade down her shoulders and lay against my neck.
I look into eyes as green as the grass and the leaves of the trees.
I feel as if I am staring into a forest of adventure, wonder, discovery, excitement.
Thoughts are racing through my mind; but as I look into those eyes, so deep and pure
I think only of her. Of my love for her. Of my desire to be with her forever.
I move, she moves, as if the same voice told us to lean in at the same moment.
Those soft, beautiful lips are against mine.
They are as red as the purest rose, a faint smell of mint fills my senses; telling me this is real.
I reach out and lay my work-roughened hand on top of her slender fingers.
They are so small, so delicate, so beautiful. I think to myself.
Without a single flaw, they remind me of the elegance of the very first cherry blossom,
As it slowly lifts it's head to the sun and shows off it's radiance.
And then she is speaking. Her voice dips and flows like the sweetest melody.
Her silvery laugh rings out like chimes in the wind.
I could hold her for hours, feeling her in my arms, listening to that sweet-as-honey voice.
The sun slowly fades into the west, suddenly filling the sky with every hue and color.
It's time. slowly, I get down on one knee and pull a small box from my pocket.
"You are the best thing that has ever happened to me" I find myself saying
"And I cannot imagine life without you. My love, will you marry me?"
"Yes!"
That one word. Yes. She said yes. That means she is mine.
My Beach.
My Forest.
My Flower.
My Melody.
My Love.
My Life.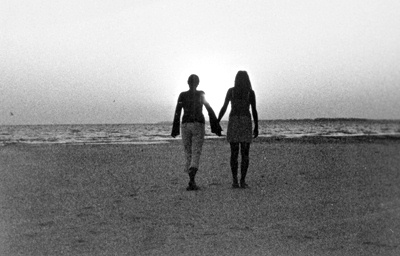 © Kim B., Marblehead, MA