Beautiful Day
May 20, 2014
I am lying on the ground
Hands on my stomach
Hair on grass
Grass on hair
Melding.
I am looking above
The sky is like a stretched satin bedsheet
On a design model set
With colours infinite
The patterns change
The printing remains immaculate
My eyes can't concentrate
There's too much to take
This azure blue
And it's cotton candy clouds
Make my pupils contract
This is a television I can't watch
It hurts too much.
Rolling over grass
With dandelions flowing
In the beat of wind
Kiss my cheek
My hands reach out to catch a wish
It's a beautiful day.
A smile transpires on my face
And I remember an exchange
A transaction prime
With this boy who loved the rain
He had promised his heart
In place of mine.
Mine is gone but he never held up his end of the bargain.
It's sunny nowadays
Maybe that's why he's gone
There's a reason, must be one.
This beauty hurts my eyes
I just want to be in my blankets cave,
This hurts too much
This love, it hurts too much.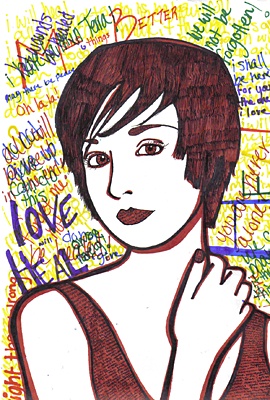 © Sara D., Aiken, SC