May 3, 2014, Around Midnight
MAG
May 9, 2014
The stars melted into your irises,
The heavens collected in your retinas,
And your hair was waving like
It had a stroke of Van Gogh,
Brushed out on the canvas of that
Starry, starry night.
Ivory skin, green eyes, and
Lashes splayed out like a mayfly
Graced and gloating upon your face.
We were under basement covers and
I started to wonder if I'd discover
What flavor lip gloss you were wearing.
Our lips were mere millimeters away,
Your miniature nose was just touching mine,
And I could feel our pulses convulse and align;
Rapping, tapping, clapping in time:
Hazed, hopeless and enamored (or hammered)
From the wine.
And that was when your friend
Decided it was the ideal time
To plop into your lap
As hammered as a nail,
And begin to confess and express
Her undying affection to you.
But that's okay, that's all right.
I really don't mind, because
When the day stretches out across the horizon,
When the sun shines bright like the constellations
In your eyes,
I pray as soberly and overly avant-gardely as I can
That I will kiss you –
Patiently,
Carefully,
Like the exact opposite of a drag race, because
My God,
It will definitely be worth the wait.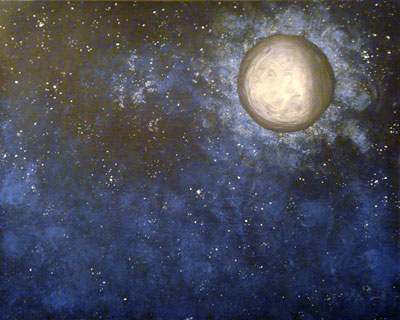 © Allison H., Vancouver, WA