A Moment With You
January 29, 2014
Is it love to find a smile tucked inside our time?
Is it love to hate the way your back looks as you walk away?
Is it love to want to die here, in this picture?

I have my eyes closed but I can feel your soul touching mine;
holding it like the last bit of air left in the world.
Daddy, you've set up your old stereo set and asked me
to dance. You gave me your last dance.
Once the space was cleared, and the living room
turned to a ballroom just for the two of us,
you took my hand like it was velvet.
You lead me until the warm light enveloped our silhouettes and
enclosed our thoughts into an entrancing kind of beauty.
No words were voiced. Instead you looked at me
and I looked at you, and I couldn't quite figure out
what your olive eyes were saying
but they were encompassed in this vivid image of
plain love. Love greater than the word gives it credit for.
Your face a painting of blessed dawn, dad,
we stayed floating, dancing. Oblivious to time.
With only the hum of your 60´s music, we allowed this
moment of peace to sneak itself into the
constant whirls of our lives. We hung, suspended.
A father and her daughter, holding on to each other
under the glazed moon's hollow songs.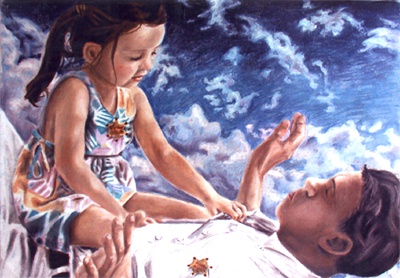 © Meg S., Andover, MA