Ceiling
November 8, 2013
"You're not even close to being crazy." It's a phrase I've heard so many times in my life, that it seems like it's been branded into my head. Not crazy. Not crazy. Not crazy.
Even as I lay on my bedroom floor, I stare at the ceiling, blinking back tears, repeating the words over and over again.
Not crazy. Not crazy. I can hardly breathe. This is the time when it seems like there's nothing else in the world to look at: if it makes sense. It might not. Every one of my friends has told me how funny I am, that I'm perfectly normal. And I nod my head, pretending like it makes perfect sense.
I'd like to tell you how that came to be, I mean, why I am sprawled on the carpet, unable to suck in a breath. If I told you, though, you'd probably stop reading and walk away. That's what people do, right?
Drip, drop. I curse myself for letting the tears fall. I can't sit here like a nobody. There are things I should be doing. Dinner's still on the stove, most likely burning to ashes as I speak. Mom's going to be so ticked off when she sees what I've done to her turtle and sherry soup. Oh, well, I suppose I've got bigger problems on my hands.
My lips move, but nothing comes out. Dang it, I think to myself, I need to do something with myself. I'm able to pull myself to a standing position. Slowly, I crane my neck and get a good look at my room.
My canvas of wreckage. The closet door is swinging off on its hinge; my curtains are spattered with salty tears. I've ripped all of my books to shreds. There are broken glass shard from the picture frames I had thrown scattered across the carpet. I wince as I gingerly pull out one that has been lodged in my hip.
Finally, I turn back to the window, where a baseball-sized hole sat on the rim of the glass. It dawns on me that this was all I doing. I try to suck in another breath, but this time, for real, it won't come.
Black spots dance before my eyes. I'm on the floor again, but I don't know why. Then I hear it again; somewhere in my head, in my ears, Not crazy. Not crazy.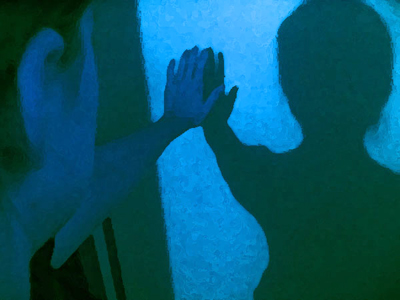 © Katie C., Libertyville, IA