Relax
October 31, 2013
School teaches you the basics.
Math, science, social studies, history, language arts, health, music-
But school doesn't warn you. It doesn't warn you about the dangers there are in the real world.
They teach you that discrimination is still out there -
But they do not teach you how you should react when a man spits on your newly ironed work uniform solely because a women got the job he wanted. They do not warn you about the shame you will feel in your gender.
They teach you to avoid abusive relationships -
But they do not tell you what to do when he beats you brutally day after day, and later breaks down, crying in your arms repeating the phrase "I'm sorry, I'm sorry, I'm so sorry..." They don't warn you how you'll ignore the bruises and cover them up. They don't warn you about the sympathy you'll feel for him.
School teaches women to cover up. To hide their bodies daily from the men in the world to avoid rape.
What they do not teach you is that rape does not just happen in dark alley ways in the middle of the night with strangers who attack you - they can happen in the bedroom with your lover as you beg him to stop and he just simply says
Relax.
I refuse to believe that discrimination will soon fade all on it's own. I refuse to believe that you can easily avoid getting brutally beaten by your love from the start. And I absolutely refuse to believe that rape is a victimless crime when it's with someone you know and love.
None of this is OK.
These fumes we breathe in on a daily basis are toxic - none of these things are your fault, no matter what society may lead you to believe.
I will not back down.
I will not relax.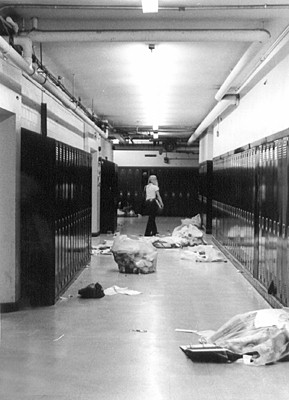 © Halsey S., Marblehead, MA