Secrets
September 30, 2013
Secrets don't make friends,
Or so they say.
Yet why is it okay
For friends to make secrets?
Secrets are meant to be kept,
But I can't keep our secrets from anyone that matters,
If the only people who matter are my friends.
If I keep my thoughts to myself,
They too become secrets,
And secrets are supposed to be shared between friends,
Otherwise, they tear friends apart.
Secrets between friends make stronger bonds,
Whereas secrets from friends create rifts,
And canyons that can't ever be repaired.

Secrets don't keep friends from running away,
Especially when my secrets can change everything.
There are secrets, way down deep within my soul,
Ones that would cause more damage and destruction,
Ones that would create veiled new worlds.
Instead of enormous canyons separating truth from lie,
Invisible walls of solitude would surround me.
My secrets should never be shared,
Should never be spoken or heard.
As I've heard so simply put,
Friends can create secrets,
And that's okay.
As long as I keep my secrets a secret,
I guess that's okay too.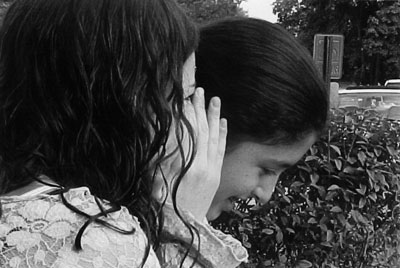 © Jill H., Pompton Plains, NJ