Tears Start Dropping
August 5, 2013
She was a girl
a beautiful girl,
who thought
she was worthless.

One day
she
couldn't
deal
with
the
pain
and
nightmares
anymore.

So, the cutting started and
blood
was
spilled.
Her parents could have stopped her,but
they
didn't
even
bother
to
help
her.

One day the cutting
didn't
keep
the
pain
far enough
away.

Then she went to the ghetto, so she
could
die
an
innocent
death.

Her plan went up in smoke,
when
a gang
found
her.

What they did to her hurt worse than any cutting,
she screamed,
she begged,
but
not one tear escaped.

They needed the screaming to stop, to not alert the cops.

That's
when
the
gun
went to her head.
Next thing she knew she was dead.

Jesus let her through the gate.

The he said, "Let me
be here
for you;
let me
help you grieve
you can cry on
my shoulder
to let
it all out.

I know
it's hard
to get over
being murdered,
I've been there
done that
before.

Then the tears started dropping right down her cheek.
He was ready
to be there
a day,
or for weeks;
as he sat there
wiping tears
off her cheeks.

He said, "I have been here silently loving you,
I am sorry
you didn't look for my help ,so there was nothing
I could do.

Though now that we are reunited
I am here
for you
and if you look
around there millions
of angels
that love
and
care for you."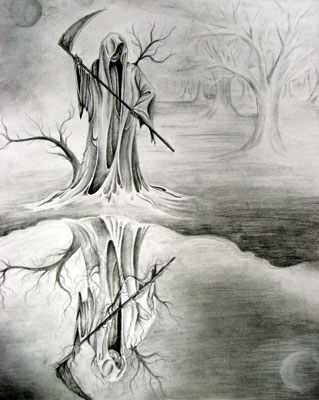 © Lacey T., Wasilla, AK