Cold Rainbow
August 3, 2013
Start in the bloody
waters of a sunset sea,
the smell of salt and battle waves
attempting to pull you under.
Let them.

Sink below the rabid orange foam,
it is here that you will glimpse
the last streaks of gold
from a dying sun.

The next step of your journey
occurs below the horizon,
only when you allow your mind
to move past the now green waters
and beyond your bluing body
will you loose yourself
and be able to float,
to rise above the waters
and find yourself dripping
on an indigo shore,
a salt-slick, sea-swept
indigo shore
someplace somewhere
someplace somewhere
someplace somewhere
safe—
safe between the noises of heaven
and the colors of earth.

Sigh inwardly.
As the last dark bubbles
curl from your lips
it is time to sink
into the violet wraps
of death's embrace.
Close you eyes and sleep well my darling,
you are so beautiful—
drowning in the rainbow.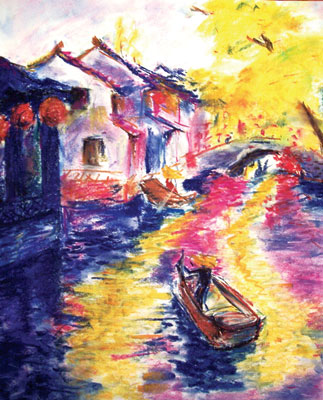 © Xiao H., Naperville, IL