Perfectly Flawed
July 20, 2013
I don't have a flat stomach
My curves don't wave when I walk
My chest doesn't push buttons off shirts
My face isn't spotless of red blotches
I can't wear a bikini right.

My eyes are light blue
And they flash when I'm full of emotion
My legs are long
And full of muscle that stretches to run
My top half is heavier than my bottom
And I struggle to except that that is beautiful.

I dream like most girls
Of a guy with a gorgeous body
And lots of brains-
Someone full of perfection
To cancel out our imperfection.

The perfect people must think that we don't deserve them
They must think that we deserve the same shapes
The same imperfections;
And maybe they would,
If they actually existed.

I am beautiful
With my legs long and fine
My curves uneven but divine
My strength not in my muscles but in my heart
I only get one body and I refuse to rip it apart.

So I tear up the magazines
The "size 2" clothes
I bask in the rain of society
And I come out shining in a ray of gold
(In a tankini- might I add)
With a splash of sunshine
Cause all the ads and commercials
The editing and erasing
Let the mistakes bleed through
Showing the truth;
We are all beautiful
Never perfect
Fully flawed
Dancing in the in-between.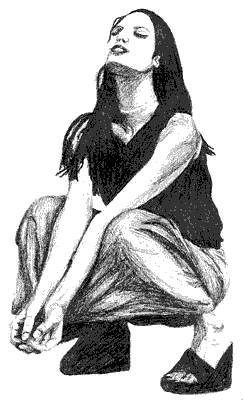 © Andrea S., Oakhurst, CA