Dead End Earth
June 22, 2013
I stand on the edge of a broken world, looking down:
A younger time, when it was flat and full
Of magick,
The kind that used to be natural and sure.
Well, I stand at the four corners
Of the earth,
And I wonder certain things about it, staring
Into the abyss
And trying not to fall off the edge.
Each thought
That arrives seems to build a bridge,
Between
Here and There,
Between
The edge of this world and the next.
Although,
How can one be sure if there even is
Another side?
Suppose it's a dead end, and when I reach it
I'll simply stop
Dead
In
The
End?
Well, suppose the bridge went somewhere, okay?
Just for a second.
Let me tell you the thoughts that built this bridge,
And walk with me,
Humor me,
On this path, if you will....
Back when the earth had magick, and people had
Faith,
It was easy to see the end in sight, easy
To see the light.
...But now that the world is round,
And magick so
Easily explained by men in lab coats,
What really
Is there left to discover—
But whether or not
The bridge still connects to anything or
Is even there?
Or maybe once mankind decided that science could replace,
Something as old as time,
It crumbled
Under the sheer irrelevance and hopelessness
Of this brand new
Earth?
And yet the thing "we did not need"
The thing
That we managed to kill and destroy, to block
The Other Side
And create our own dead end,
In the end,
Killed us too?
Now what sort of logic is that?
Humor me,
And I'll humor you—I just don't see the point,
Either!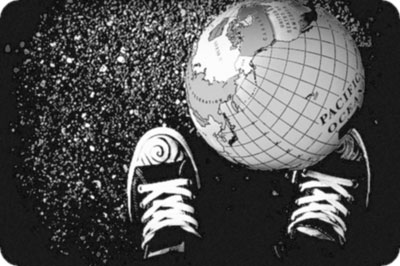 © Kailey E., Crownsville, MD