Celestial Space
June 20, 2013
You and I are celestial;
'us' has shifted and floated to space.
There's no telescope I could buy
that could find the galaxy with our memories.
At a time you were my idol
then our friendship was idolized,
but now we are only problematic.
I heard their fatuous words to you
but I sought no worry as you were extrovert.
You were right;
I am not good with assumptions or observations:
my greatest hamartia.
Looking back I see you were introvert,
I wish I'd noticed sooner.
You told me you had athazagoraphobia;
you were afraid of being forgotten.
I'll never forget you, but I think you've forgotten me.
Visiting you was scary:
your face, once so guileless was now cadaverous.
It was like looking through a kaleidoscope;
the pigment in your skin seeping,
the shape of your body melting,
the sound of your voice suppressed.
Past my Suburban I walked
and down the street I ran to your house.
That's when I got nyctophobia.
Dark was your house and dark was your face.
Dark was engulfing me like your cigar smoke.
It held me down just as their words held you…
My eyelids, stopping the tears, closed;
I saw your guileless face and our cheeks touched.
You said, 'Let's get away from here. They're not like us.'
I pushed you away and suddenly you turned to star dust.
I woke with hands desperate for your grasp
and a mind depraved.
And then I got oneirophobia.
I am afraid of dreams. I am afraid of the dark.
I am afraid of knowing that you are dead.
For you, for us, I should have looked further into space.
I should have seen that they hurt you.
But, at least we aren't celestial any longer:
I have memory of you now, in your casket.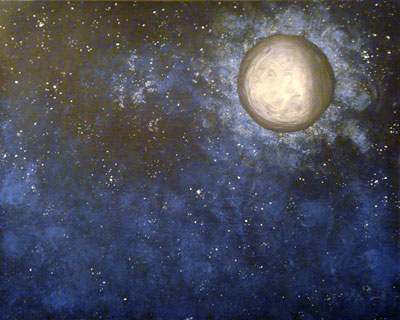 © Allison H., Vancouver, WA