Mirrored Walls
June 12, 2013
I look around these abandoned halls
But all I see are mirrored walls
Reflections wander their surface alone
Yet none of them are my own
I used to know one- a child
Young and carefree, not afraid to live wild
He smiles- a seraph's kiss
Amid the surrounding abyss
He is joyful and he is loved
A far cry from his neighbor- shunned

This one is older; I knew him, too
Society has changed his worldview
He used to be an optimist- so full of hope
But now he struggles just to cope
Nobody ever said the world could be so harsh
Yet this reality has torn him apart
He used to see the good in all
But now, they only hope he'll fall
He wages his own war from within
Trying to hide from the monster the next has been

Time doesn't matter to him- he just turned eleven
It's just an illusion- to him, like Heaven
He used to have faith, he held it true
But the first girl who stole his heart broke that, too
She looked so divine, like the angels he was told of so much
So serene he'd almost collapse at her touch
It never reached that point- it never could
She never loved him, though he thought she would
"You'll never be good enough," she said
And those five words nearly struck him dead
That night he asked the sky why he deserved this pain
But no rain would come to wash it all away

There's another, further down the aisle
His feet are worn- he's dragged them a thousand miles
Five years can change all you've known
But he doesn't even have a place to truly call "home"
Parents, peers, passerbys and those who claim to care
All of them have ignored him as if there was nothing there
He tried to save himself, to seek salvation again
But all he is is what he was back then
Twenty-one times he's been broken, plus another today
He's calling out to me now, he has something to say
His expression shows a past of heartbreak; violence
But as for his words, all I hear is silence
Then- a shadow beyond the walls! His identity: a mystery

He doesn't know me, nor do I know him
His heart is broken, and wisps are spilling from within
They are memories- visions of a better past
But they seem so blurry from beyond the glass
Then I see them- a girl, one I know, it seems
I realize he is trying to show me his dreams!
The next- a family, looking up to him like a life-bringer
And the girl, at his side, a diamond halo on her finger
At last, he stands and approaches the vast,
All-encompassing wall of glass
He mouths the words to me, I hear them true:
"Don't ever let me become you"
I looked around the walls, to every memory
All of them agreed, joining hands like family
I wanted to break the glass- I wanted to set them free!
But all I'd be breaking
Is me.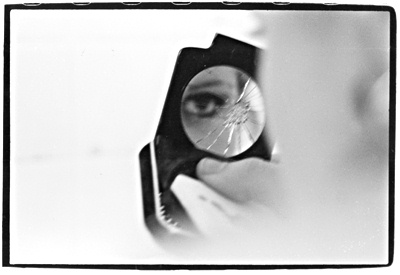 © Heather W., No., Brunswick, NJ