The Side Effect of Society
June 3, 2013
The ruffled, crumpling mass shivering
In the winter wind. The salty drops
Pouring out his eyes. His fermented stench
Clinging to his body unlike his ripped and
Ripping rags. He cries not only because of
His situation, but also because of the fact
That no one will help him.

No one helps him because he is like an
Embarrassment, and don't scowl when
I say that, because you do it too. Have
You ever knelt by their side, smiling,
Without thinking what other people think
About you. It is almost like they are a contagion,
A contagion of condescendence.

His rickety cardboard box stands in sharp
Contrast to the towering high-rise unwavering,
Unrelenting. His threatened and raw emotion
Stands in sharp contrast to your fake and feign
Haughtiness, your perfect pretentiousness.

We are the beneficiaries, the patients to
Society's drug. We thrive on our success,
On the supposed assurance that everybody
Has a chance. The supposed American
Dream. For us, the dream is laced with
Reality, but in reality, it's a nightmare
Instead.

When we see them lining the cracked
Sidewalks, their crumbling cardboard
Signs shaking with their trembling,
Malnourished arms, we feel pangs of
Guilt but not pangs of inspiration. We
Don't think of what we can do, rather we
Think of what they could do. "Just get a
Job!" we yell, exclaiming their necessary
Problem with drugs.

But what if it was never their fault,
What if they tried to get a job, but

Were never qualified enough. What
If they are the side effect of society
And of success.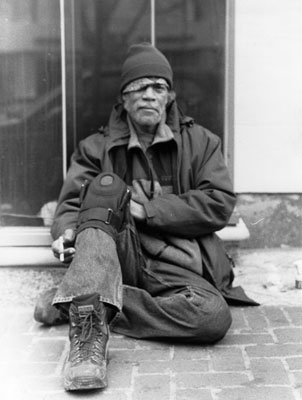 © Marie D., McLean, VA