Kissing Spines
May 30, 2013
my body is a scab that we should peel
to uncover ripe life from our cores.
Pink skin is what echoes in white empty:
the resounding plummets of rain in my ear,
a heartbeat of constricting nerves. Kissing spines,

swollen lips that touch and electrify
with the pain of tomorrow
is our past, our future the nonexistent plains
that stretch like forever at the joints.
Connect us from limb to limb,

we are a tangle of wires and pregnant thoughts.
Could it be the brainchild of my creation that swells
in the heat of you? Your contortion, I do not recognize
the mirror in your eyes. Why have I grown to you
in such massive proportions? My legs are not in short
a six footed length, my fingers do not curl earths
like the palm of yours. And for sure, my heart does not beat
as ten by ten, not as six by six,

does not beat as even one by one. A thesis:
I've never been as human as you thought.
An assurance, I can swear. On my life,
on my words, on my mouth that serves to my hands.

Pain is thine enemy; what's yours is mine too.
A healed wound does flake as a feather.
To the wind throw my skin, and I will send back
a mind sewn through.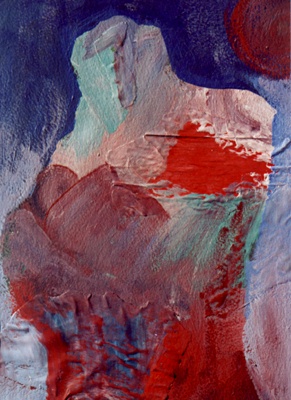 © Chris B., Phoenix, AZ