Silver Fish
May 30, 2013
Test all you want but these shakes
Are just my luck that sings between my veins.
I would bleed out a song as I go,
Somber and slow and willing as wish,
Silver as a fish and gilled to breathe
Among the cries that resound
From the tunnels of your lips.
I cannot swim, and I have been submerged
My whole life in these words that gush between
My teeth and in my lungs and in my head
And in my heart. It is so hard to be born as,
To be born with, to be born and. To be born?
I will not write to the death, I will write
For the death. I will write to drown myself
In thoughts until I choke from the hold and
Pass on like one sentence to the next,
A semi-colon my midsummer's night,
A black hole my new year's celebration.
Three, two, one: A capitalized The croons over the horizon
And pushes the day out like a century.
The dawn is a child risen beyond its time, beyond my time,
Beyond yours. And I am beyond the end of my sentence,
A run-on that carries the weight of ten commas
On its back across hills of paragraphs and page numbers.
A fish that slips through a stream of letters,
I will smooth over stones and weave words
Of the weeds like a tapestry of my confession.
This is what I have done. This is what I have become.
String me on a hook and gape my mouth for a swing of secrets.
My regrets, your tokens of affection. Confess, confess.
Kneel me down, close my hands, and let the words
Flow like empty blood.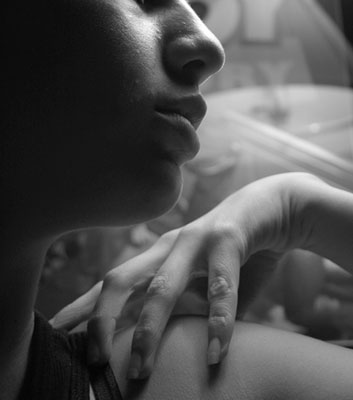 © Rebecca B., Santa Clara, CA