The Dance of the Souls
May 20, 2013
You take my hand and spin me round
our feet whisper as they tiptoe on the ground.
I'm entangled in you as you pull me close
hold me soft while we move to and fro.
Now you're standing rather near,
the lights go out but I have no fear.
Still, the band will play and the chords will stream.
I am enraptured by your moves so heavenly.
Something here is too sublime,
maybe our lovely dancing vibe?
In the dark I see your fading smile
and the sparkle in your sequin eyes seem revile.
Before we swayed in such perfect motion
I thought what you offered was true devotion.
Now, dear, you've discovered your true faith
I wish you weren't finding out so late.
You look into me with wicked eyes
that look to ask, 'Please, tell me why?'
You're an elegant being dancing in the dark
don't try to put out your never ending spark.
The dance of the souls is forever eternal
but please don't act like it's infernal.
From one lifetime to another
you and I were sent to find each other.
Just keep your grip and waltz with me
while remembering this is your eternity.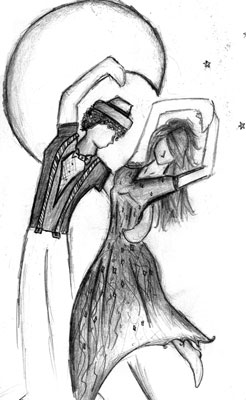 © Megan L., Everson, WA