Porcelain Friend
April 23, 2013
I've got a friend who wears a mask of porcelain,
her face is pale and white yet she wears a smile of delight.
Her voice seems to echo and I'm the only one who will ever know.
I've seen her everyday for breakfast, lunch, and dinner for the past three years,
no one will ever hear her 'see you soon' call, but me.
She holds my hair back and doesn't judge my decision as she pats my back.
I leave the water running just in case mom is coming.
My friend tells me that I'll be okay, for this will make a better day.
You heard what they used to call you in the hallway, I cry to myself.
You saw how they'd look at your clothes, I yearn for help.
Three years ago they didn't know my name,
now the school chants and talks of all my fame.
They touch my silky hair and admire my make-up,
I smile and nod to all these little suck-ups.
Everyone asks how I fit in my size zero jeans,
I hear mom telling dad that she's worried.
I walk up the stairs and take a right where my friend is always sitting tight.
She welcomes me in and says, 'Have a seat.'
Now I'll put up my hair and get rid of my treat.
She cleans the mess that I have created
and now I am emaciated.
I look in the mirror at my pretty dress and see the stain
Oh great! Now, I have to change. What will mom think?
My cheeks are sinking in, but at least you can see my chin.
My hair is starting to thin because of the stress I've been taking in.
At dinner time I'll walk up the stairs and my friend will still be there.
I'll hold her porcelain sides and while I throw-up again I'll probably cry.
She says, 'See you later!' as I look in the mirror and brush my teeth.
Now everyone at school will notice me. Aren't I pretty?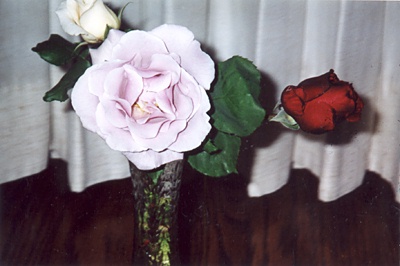 © Molly M., Palmdale, CA