$50 Cologne
April 4, 2013
Lipstick stains and a messy french braid,
the smell of coffee and a full ashtray.
You're probably missing the mini bar, I would stop and ask you how you are.
But, it's been how long since I smelt your $50 cologne?
I could drown myself in your deep brown locks.
I loved how angry you'd get when I made fun of your stupid crocks.
You and I are just a polaroid pushed up against glass in a frame on my dresser.
My mom tells me to throw it away, it's only torture.
I don't see it like that, do you? Was my sweater in your closet?
Remember when your $50 cologne got on it and I made you wash it?
The other day I saw your brother, he hugged me and I only thought of you.
The color your face got when he hugged me, you were blue.
I always knew that he liked me and apparently so did you.
I asked him how he was and he didn't really answer.
He said he was doing just fine and that it'd been a long time since he brought up me and you.
It made me sad, why would he say something like that?
His sweater was red and it reminded me of the color of your bed. The way my lipstick seemed to blend and mix with the cotton of your sheets.
He didn't smell like your $50 cologne. He smelled like captain morgan.
That's your favorite, I know you adored it.
I hate the smell of it and I hate it's taste, but sometimes I drink it to take the pain of you and I away.
I have your half empty bottle of $50 cologne still right next to your prescribed pills.
The orange bottle with the child proof cap was always missing way too many.
I can't believe you did that, can't believe you left me.
There was no note, just your bottle of $50 cologne.
Your mom said that I should have it and sometimes I just spray it out of habit.
I wish you were here but you're up in heaven.
I miss you and your cologne from isle eleven.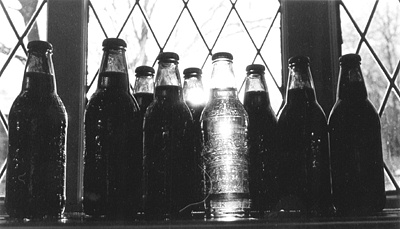 © Steve S., Marblehead, MA