The Constant Hunger
March 28, 2013
Van Dirk was a man
Quite short and stout
Nothing out of ordinary 
Only that he visited a doctor frequently 
"What is your malaise, Van Dirk",asked the bespectacled man
He complained of a stomach ache.
There was not a disease left 
For which Van Dirk wasn't tested for
After trying all the medicines 
Van Dirk was still in pain 
His stomach raged on,
There was a fire to be soothed 
He was hungry all the time.
Soon the food in the village vanished,
Droughts came and people died 
But Van Dirk's stomach raged on 
And he was constantly complaining.
He finished the food of towns and cities 
All doctors and scientists were in a fix,
There was no cure for his malady.
The world was peeking at it's demise,
But Van Dirk's hunger was never satisfied.
A old learned man was found from the hills,
The world implored him to disclose the mend, 
Or life as they knew it would end 
He spoke with knowledge and dignity, 
That greed has no remedy.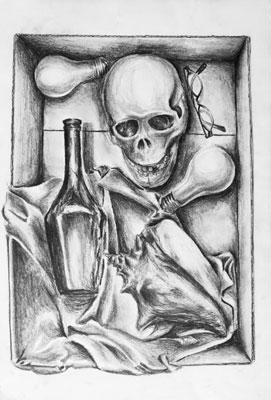 © Karen S., Norwalk, CT