What It's All About
February 26, 2013
In a world overflowing with sin and hate,
There is a light, shining through the darkness,
A glimmer of hope, in a world of despair.

This is a heart, free from hate,
A heart filled with love and nothing else.

Willful to die,
Willful to take on the largest burden,
So filled with love is this heart.

As a lantern is used to guide the way along a path of darkness,
Those who trust in the kind, loving heart are provided with a light,
To guide them through the darkness.

The merciful soul,
Behind the loving heart,
To all who accept the gift given,
Gives eternal life.

A downfall of agony,
A death of despair,
Although killed by hate,
Lived on in everlasting love.

Forsaken for the good of man,
Though not deserving of the harsh ending,
A last breath was taken.

Although three days had passed,
And death seemed certain,
The third day brought a surprise,
A new risen King.

Each person a dark pile of wood,
The loving heart a candle,
Only needing some simple words,
Then igniting the wood.

The wood burns bright in the darkness,
And lights neighboring wood with its fire,
Igniting thousands of torches,
Standing out in the world.

Some wood is wet with hate,
Refusing to ignite,
But even the wettest of wood can be dried.

We are the torches,
We are the believers in Him,
We must ignite our fellow torches,
That's what it's all about.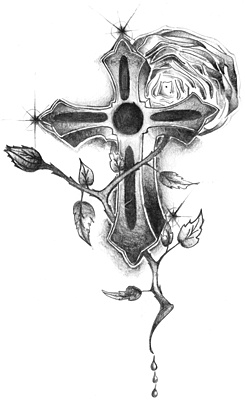 © Ricky P., Natchitoches, LA