silently thousands of times I'm seeking
February 4, 2013
silently thousands of times I'm seeking
absolution
my guilt clogs gutters and
crowds my dreams with faces
I'll never forget.
Kings of long-gone countries I've ravaged,
swallowed whole in attempts to preserve something beautiful,
jeer at me from their bone-thrones
in well-tailored suits and camel coats
waiting patiently to deliver speeches that render me
both helpless and unhelpful.
Freckled bodies loom
naked and fresh and unreachable,
arm stretched and fingers barely touching mine-
then wordlessly fade
from the green parks and long talks of summer.
A yellow dog stands in the snow
looking at me with perfect hazel eyes
asking questions I don't know the answer to.
Austria waits,
my sisters wait,
crowds of people I've left behind wait
for my atonement-
yes, that one,
the one I can't find.
Sometimes I wake up
in the middle of the night
and feel fingers in my hair,
open palms from out of nowhere.
cleaning me,
but I found soon that I was still asleep.

silently thousands of times I'm seeking
absolution.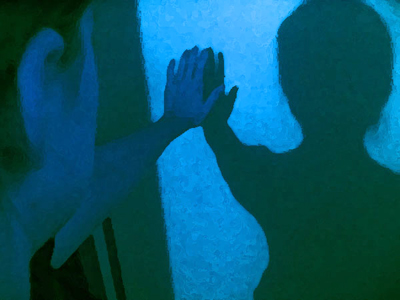 © Katie C., Libertyville, IA