Play to Win
January 11, 2013
"Matthew."
His name rolls off the nurse's tongue
Like a bowling ball searching for a strike.
She hands him a foam basketball
Showing him the plastic hoop
Taped to the supply closet
"We got this for you"
His face lights up
Brighter than traffic light
I crumble
The orange ball rolls by my left heel
Matthew runs over to me
"Here you go," I extend my arm
He freezes before me
Like a deer in headlights
He's not sure if he should run past the car
Or stay in safety
"It's for you," I assure him
His bright expression returns
A few blonde hairs were just beginning to poke out
From under his pale skin
His sea green eyes conquer the majority of his forehead
A toothy grin blossoms
Revealing more teeth than the average two year old
I hand him the ball
"Thank you" he barely whispers.
Then rotates 180°
Almost tripping over his intravenous machine
He races back up his makeshift court
Pausing every so often to giggle at himself
Going in for the layup
It bounces of the tomorrow fund poster
And swoosh
Game point.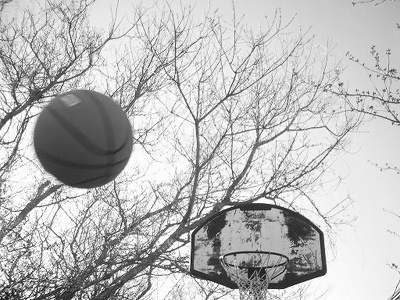 © Ali C., Hyannisport, MA