And the people of the Lord said, "Amen."
December 12, 2012
Mama raised herself a rule breaker.
I would uncross my shiny black Sunday shoes
and wiggle down from my place to crawl
underneath the pews, because
maybe God couldn't see through the wood and cheap velvet.
And I still bow my head when the preacher says
to, and I still sing the hymns with my honey-smooth voice.
But with my hands clasped together and my ankles crossed,
I still can't focus on Jesus's gift.
Don't you worry for my soul, now,
me and God talked it over and we decided
(I decided that he decided)
that it's alright, because he made me this way.

Oh, I know I'm not supposed to think about sinning,
and certainly not with anyone specific.
As many times as I repent, though,
I just can't help but imagine what a little more
Communion wine would make the end of my nose feel like.
And when the preacher blesses me, I imagine his hands
are a boy's hands and that they don't stop on my shoulders.
If I were to get up and scream any word that certainly wasn't
"Hallelujah!"
the church ladies would die and go right to heaven.
Mama would have to lean against the cold
wooden crucifix near the front to keep
from falling over, and that would be my chance. Then,
I would have just enough space to squeeze past these people
who smell too strongly of cologne and judgement
for me to miss the smell of a
new Bible.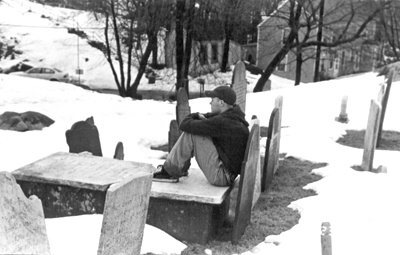 © Matt B., Marblehead, MA