Clandestine
December 5, 2012
Beauty only visits once a year,
clawing it's fury down into the shape of
scratch marks onto our wooden tables with its lovely
French manicured nails.
Following rueful tradition, with a toss of
golden hair, I am given the once in a life
time present of my own choosing.
Beauty prefers to keep it short and simple,
our contact minimal as it checks
flawless skin in a compact mirror, reapplying ruby
red lipstick while following me down the aisles
of my sanctuary, a book's haven.
Beauty is strong, pain enduring, fluffing the
unbearably hot fur coat up and down
its bony shoulders as if winter stood at its thin back.
Beauty's façade makes a wave of
handsome ties and stiff suits swoon as it struts past
them down the cracked pavement, a red carpet
of velvet in its own arrogant eyes.
Novel tucked under my arm, I wave beauty goodbye
as it sets itself upon the plush leather throne
of its limo and drives away without a backward glance.
I wonder if next year its hair will have been dyed
another exotic color, or perhaps bring
another poor trapped animal tied with it at
the waist, calling itself her husband. Beauty now forgotten,
I escape into my humble threshold to clean
down the scratched tables.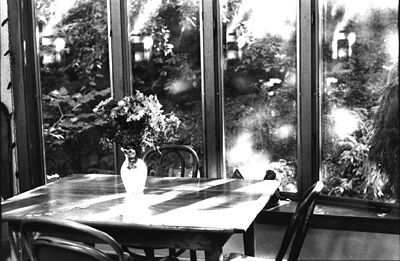 © Bree C. Marblehead, MA