Darkest Day
MAG
November 15, 2012
It was the darkest day
That my eyes have ever witnessed
And probably never will again.
Spinning and spiraling,
The earth still rotated;
Despite being the darkest day,
Indifferently, it still turned
On its spindly, invisible axis,
Naive to everything around it.
It was the darkest day,
Jack Frost was hiding in crevices,
And the snow automatically dropped
From the fat, puffy clouds,
That looked as if they were
Dressed in billowing, gossamer feathers
And that danced and twirled
In the faded, monotonous sky.
It was the darkest day,
But the wet, soggy ground seemed to
Collect each snowflake with a
Satisfying plunk.
And the falling ice became
Tiny, frozen shards of glass
That would pierce your skin
With a sharp quickness
At each tiny movement
That you dared to make
In that stark, stiff, stinging air.
It was the darkest day,
And as I faced the cold window,
It became caked
With a thin haze
From the moistness
Of my breath
And it was all I could do
Not to rub it all away with my fingers
And reveal the snowy world beyond.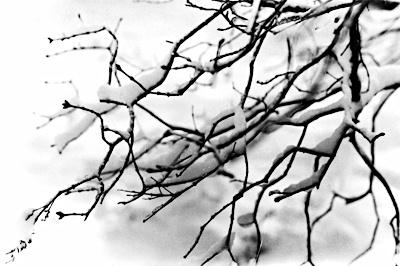 © Lindsey D., Marblehead, MA