My Nation That Fell
September 28, 2012
I truly see hell as I open my eyes
To a songbird sing and happy blue skies.
A light little breeze, I could easily tell,
I remember the day my whole nation just fell.

My memories still flood, with the ones of you,
The ones you made, and the ones you drew.
Every time I saw you
was a wonderful day,
Now when you're here, only a soul could say.

You are my teacher, you're still my guide.
I just never knew
you could break my stride.
I hold you dear, everyone can see,
But holding you close will never make me free.

One day I will awake to see your smile
Inviting me to change, my whole lifestyle.

My mind still hurts from you leaving it full,
Changing and filling it from day to day.
Because of you, I'll always remember
The things you did and the things you'd say.

Many different rooms I would sit with you,
Your eyes showed thoughts, I saw them clear.
No words were needed but maybe a touch or two.

I remember the others I held very true,
I never thought you would close your eyes too.

That day was the day, I could easily tell.
That day was the day my whole nation just fell.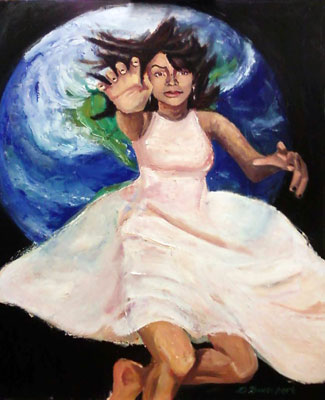 © Dominique D., Ozone Park, NY