Kiss Me Goodnight
September 23, 2012
I want to kiss you like the stars want to kiss the moon goodnight,
Like the grass kisses the graves like it's cheating on the ground,
I want to kiss you like someone who's fallen so hard for you that I haven't stopped falling yet,
But when I do I'll land on the black pavement of the street that makes up your pupils, and I want to be the thin yellow line that runs down the middle.
I want our hands to meet each other and love like no one can see us,
Because you are so… imperfect that it's beautiful.
You remind me of the sun that shines down on people's backs, who actually work for a living,
While I can still lock myself up in a room and write about how much I love you.
I want you like the left ear wants the right, always separated but always able to listen to each other.
I want you to hold me like the pages of books hold each other,
Their words intertwining with each other and knowing to love,
I want to dance with you where everyone can see because no is watching,
Because I love you like blank canvases love the color red and music loves meaning.
I love you like children love ice cream, because your eyes come in so many flavors.
So just kiss me goodnight.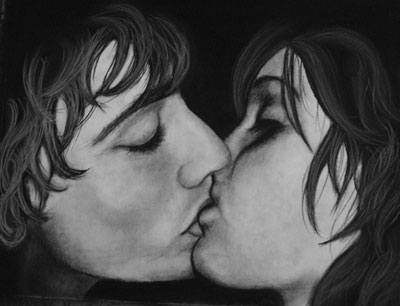 © Anna Y., St. Robert, MO