The Path of Life
September 22, 2012
I stare at the road ahead of me,
As the dark sky begins to take the night,
The path ahead seems so deadly,
As the shadows take the light.

I feel my hope begin to slip away,
Despair, desperation, anger, and hate,
My doom lingers, much to my dismay,
and threatening tears seem to seal my fate.

I see this tragedy coming to an end,
and though it terrifies me to admit it,
I don't dread my slow descend,
because death is better than this cold pit.

A chill crawls up my spine,
As I crawl into my deathbed,
but just then all the stars align,
and I can see the light ahead!

The sun shines over the horizon,
and I welcome her wonderful warmth,
The flowers all seem to blossom,
and I once more start my walk north.

Birds begin to chirp and sing,
And I smile as I walk along,
Feelings of happiness begin to cling,
and I realize that I do belong.

The path of life can be an odd thing,
But for every bad time there's a good to match,
So just keep on beaming!
And keep your head on through that rough-patch.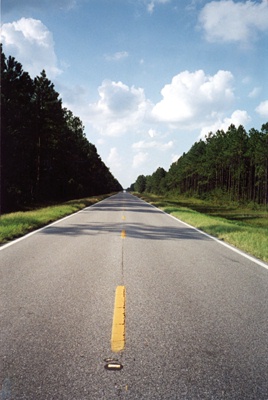 © Amanda M., Coventry, RI