Lost Soul
September 20, 2012
As black imbued black, so was rendered the pitch of darkness
That befogged this godforsaken yard of graves -
And too the dank, 'til now forgotten chapel that
Did little to grace these forlorn grounds.

Yet here stood I, seemingly first to tread this weed-ridden soil
Since times of yore when life had erstwhile blessed this land.
But for being lost in solitude - as does a country wanderer -
Would I not have happened across this morbid landscape.

And though detail rendered barely visible to my naked eye –
For desperately had the moon tried to break through this jet fog –
A sense of something suffused the place.
Was it those tormented spirits desperate for absolution,
Or perhaps the gargoyles teasing me on whether they be of stone or living flesh? I was drawn to the oak door as it enticingly opened in passage for me.
The organ called from down the nave and through the pale orange of unsteady light - that which could only be mustered from the few discoloured, moribund candles.
Could I also hear a distant choir of stern voices, as if in effort to scold me?

As I approached, those tarnished pipes came into view.
Standing erect with gothic pride, they bore down on me with patronising air -
Exaggerated by the disjointed sneering of minor chords,
As if to state that insignificant I had henceforth no grant of solace.

In answer, I steadied my rocking legs and racing mind to wonder of this scenario.
And in doing so, I found myself waking from a cramped dream –
Whence the message dawned: mine had been such a claustrophobic life.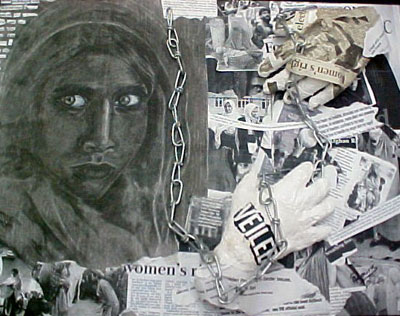 © Poornima P., Cutchogue, NY