Love Affairs
September 16, 2012
I met Winter at a Christmas party.
I was dressed in glitter
from head to toe,
warmly wrapped in cinnamon,
and he smelled like ashes from the hearth.
He was drowned in a black cloak
and his eyes were steel blue,
and his lips were thin
with snow-white teeth behind.
He carried me into the snow
and a candle burned in the window.
Winter was fierce as the winds
that lifted up his cloak
as he showered me with diamonds
and snow up to my ears.
We fell apart; as it turned out
the holiday spark
could not keep us together
through the stretches of cold.
Spring was my rebound.
He was sweet, and he put
pretty flowers by my bedside
and he left for work early
in the yellow morning, and read me
poetry. We held hands
through the cherry trees, and
I cried into his shoulder, tears of
April rain, my mind still suffocated
by the snow of Winter's goodbye.
My heart thawed in his soft hands
and I was a child, innocent anew,
through glasses he looked at me,
eyes a pool, and we would sit
and he made me eggs in the morning
and he was honey, but he loved me most
in neat dresses, at home, cooking.
I met Summer at a rave,
and it had been ages since I'd felt so wild
I think I must have downed
a stinging pina colada or two,
and he was shirtless, his tan skin
carved out as if in clay.
His hair was spiked and he ran and leapt
from the cliff, diving into the water,
and we kissed in his shiny car
and he vowed to take me away to Fiji
or someplace far,
of endless summer.
I danced in a hula skirt by his side,
bikinis, martinis, and he put
massive hibiscus flowers in my hair
and we were wild, and the world
was seen through a shade of red and orange.
He left me for another, younger flame,
leaving me to shiver and cry
he was a dream, a palm-tree shimmer,
deep in the August of my heart,
I hold the memories always.
Autumn was my first love.
I knew him from grade school,
when we held hands on the swing.
I had to see him again,
For the question was always poetry in my heart.
He caught me in Central Park.
My love for Autumn is true
and if I could, I would spend hours
thinking, dreaming, inside the arms
of Autumn, holding me closely
my crisp fall clothes
and my brown hair full of leaves.
Behind his polyester costume
Autumn smells sweet and fresh
dizzyingly herbal, like apples
and trees.
The light inside the flowers
seeps into the trees
and hot cider reminds us
of cinnamon-spice,
and it is becoming colder.
I caught a glimpse of Winter yesterday,
through the very edge of my window,
a kiss of frost on my cheek
and I feel the seasons shifting
as I lie here next to Autumn
with memories in my head.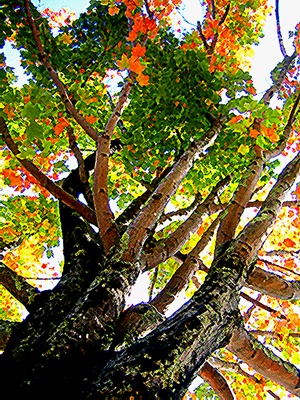 © Kathryn R., Shelby, NC