I Miss You
July 18, 2012
Why do I miss you if I'm the one who left you?
Either way, I miss you.
I miss having you near me,
I miss your hugs, your smile, your eyes, your scent, your laugh.
I miss having someone who will tell me I'm right, no matter what.
I know I caught hell for "stealing" you, but I didn't steal you.
You stole me.
I could've had it all, but I chose to leave.
Now I'm lost, and I'm alone, with nobody to hold me.
But that's all my fault.
You said you'd never leave me. You didn't.
I chose to leave.
I chose to give up all the good I found when I was with you, because even though I knew I could trust you,
I knew that I loved you,
I couldn't let myself trust you or love you.
I ruined one of the best things I ever had, just because I couldn't trust.
I know there were bad parts too, losing my friends for a time.
I didn't want to hurt anyone, but I did.
I hurt me, but more importantly, I hurt you by being to shy to tell you the truth.
Too broken inside to let myself love you, miss you, and trust you. So, though you may never see this,
I love you. I trust you. I miss you.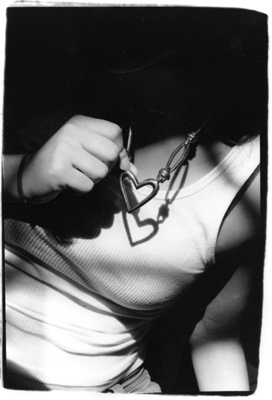 © Julia R., Bethesda, MD