Friendship Never Dies
May 26, 2012
I still remember the day I held you in my hands, your mouth gaping in a small 'O' shape. Your eyes were so sincere, so honest, so innocent, as if caught in the middle of a surprise birthday party. My heart tugged at my lungs, taking away what little breath I had and causing every drop of blood in my body to freeze and ache with cold fury.
I collapsed – inside and out. Falling without anyone to catch me, a single tear slid as slowly as a summer day down the length of my cheek. The sky echoed my feelings – feelings so indescribable it seems almost traitorous to even attempt to explain them. As the dull clouds parted in perfect sync with my hit of realization, the icy rain came down in bucketfuls. I held you tighter, because letting you go would be unimaginable torture. A thought entered my mind: this was just like the climax of a movie. I didn't hesitate to banish the notion, a little guiltily, as if I was not regarding the situation with the utmost consideration, like I should have been.
Your eyes flickered, and the last splinter of me blossomed in hope. But suddenly, like realization, it was buried again in the depths of my despair and desperation. Your hair, silky and sparkling with water droplets, framed your oval face perfectly. Your small figure lay on me, the warmth dying like the embers of a once frolicking flame. You raised a finger, but I did not bring myself to hope again; I knew it would only destroy me more.
I sat there for years, it seemed. I felt myself ageing, shivering and starving, but I was oblivious to anything other than you. As thunder shook the sky, livid and enraged, a similar sensation shook me inside. Suddenly, my salty tears were lost in the downpour as they came easily. I held you, all this time. Not to make you proud, but to honour you. The weight of the world fell on my shoulders, shrieking for attention. Gradually, the seriousness of the moment hit me and I knew – knew that you had completed me, fulfilled every dream of mine and given me the love only best friends can give each other. But you were gone now; I was worthless. Useless. Nothing.
Your polished nails, your quirky smile, your strange habits hit me. I thought of what we had been through. As more thunder ripped the clouds, I desolately revisited our memories. It seemed like such a senseless word. What were memories, after all? Were they pictures and videos, letters and presents? That meant they were no different to evidence. Evidence of what you had achieved. Evidence of what you had begun, and would never finish. Evidence of what you meant – to her, to him, to them...and to me.
Struggling with your lifeless body, I battled with the wind to get somewhere secure, warm, and loving. Home, as it was known. Pain raced through my arms, and they protested weakly, but I used every bit of my strength to keep going. I staggered inside, the water dripping like a leaking tap. My mother looked us up and down, wide-eyed as she dropped her ladle. She uttered a strangled cry as her eyes swept your still body. They stopped at the bleeding bullet wound above your chest. Finding her voice, she screamed a scream that carried so much emotion as it pierced the house. She gently lifted you out of my arms, but not before I whispered in your ear, 'Don't forget me...'
Friendship never dies...even if you did.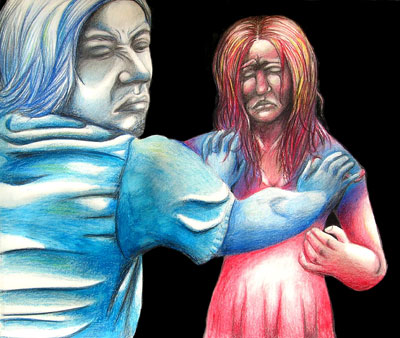 © Jessica P., Bethel Park, PA