The Flight Of Life
April 30, 2012
And it was lost,
Forever.
Just like that,
I vanished.
A thin dandelion stem,
Blowing in the breeze.
Alone and forgotten.

And here comes the rain,
Combating me in the sky.
Shoot me down,
my enemy.
This battle eternal,
Drowns our spirits.
Simple and true.

Plummeting down,
Like the falling star.
Hear my cries,
Oh absent one!
'Til the sun rises,
I fall alone.
Horrified and abysmal.

Before my grave, I lay,
The simple earth beneath.
A flicker of heat,
Kisses my cheek.
The sun reborn,
Fills my lungs with existence.
Opportunity and hope.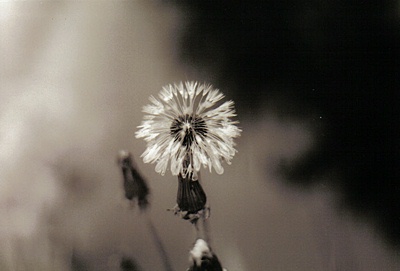 © Sarah S., Poland Spring, ME