Pour honey on the cuts dear, it makes the pain sweeter.
March 27, 2012
An apple entwined in lissome fingers of her right hand,
She embraces it to hollow forms of a tenuous cheek,
Harboring every taste.

Sveltely enlivening fire ablaze in her left hand,
The hand nearest her heart—enflamed,
Always beating faster in the spring.

She sits somewhere in-between God and Hitler
On the doting driveway concrete,
Avoiding open windows,
And wishing she didn't know she was dying.

The loose skirt clatters over pale legs
That she only wears in her catatonic state,
Waves at the wind
Revealing scarred legs pricked with bloody bruises.

With nothing but champagne glasses of orange juice
To create a subtle ease,
She suffers of a pain with a purpose she doesn't even know.

And ponders the words her mind won't let her forget
Of the evil she cannot burn,
That watches the trees with conforming eyes through her skin.

She doesn't always run away from happiness
Sometimes it runs away from her.
But she always stops to jump over the cracks
No matter who's being chased.

And to pour honey on the cuts,
From cracks left forgotten,
Making the pain all the sweeter,
Solacing the lovesome return of pain's beautiful smile.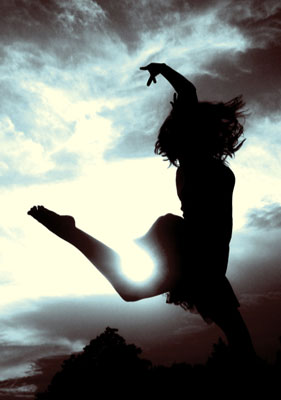 © Martha V., Morton Grove, IL