Writing
February 9, 2012
I. I used to think that you can only write
a good poem with rhyming words
but then I figured out that if
a poem isn't a story,
if its just words that rhyme
like beg
and egg
and nothing else but other words that
rhyme but no story
then it isn't a real poem….
well, maybe it is but
it isn't a good one,
anyway.

II. There are times when I like to
write with a pencil better
because I feel like hearing the scratch-
scratch go with the ding of the
new ideas popping in my head
but other times I like to
type because I like to hear the
tap-tap-tap go with the swoosh
of brand new ideas pouring from
my head down to my fingers.

III. Most of the time what I write doesn't
really make sense, it's just me
talking-talking-talking about random things
randomly to random people but a few times I
find myself with something really good
that everyone can understand (which is really
rare) and that everyone says that its really good
and that I should keep writing-writing-writing
so that all my ideas are spread out into
the world for everyone to enjoy but I don't
want to keep tap-tap-typing or
scratch-scratch-scribbling so sometimes I
just write jibber-jabber about random
things randomly so that not everyone
will love it and like it and tell me to write
more and more and more and more.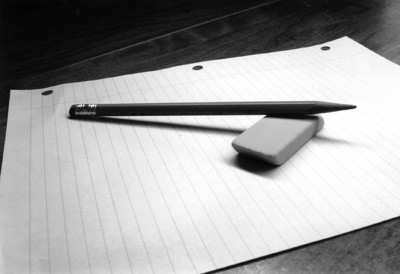 © Michael H., Mildford, CT