Seemingly Irrelevant
February 2, 2012
I hate the dark because of the things I am
Almost positively certain I can see.
The monsters that try to hide behind my clothes
And blend into the dark. But their clear features
Give them away. Their sharp and scary claws.
Their eyes as black and deep as wells.

I abhor the shadows it
Puts in my life, blinding me with its intensity.
Bundling up these ticking time bombs of unsure
in soft blankets of the night. I want to peer
Under the covers, but I hate the light of realization
almost as much as being numbingly oblivious.

I hate the dark because of the things I can't see.
The things that rely on their voice and touch in
an attempt to convey a sense of security.
The things that know better than to assume one
Would comply with their eerie, faceless presence.
The things that become mad when gentle doesn't work.

I suppose I hold hatred for it because it is, in scientific terms,
The absence of light. It was drilled into our
Brains during our countless years of childhood
That light is good and safe and dark is bad and
Evil. While the night may have hurt me initially,
It now offers to reconcile with it's gift of repression.

There is solely dark where I reside now. Ironically,
These extreme bouts of electrifying light and sound
Managed to emphasize the night by killing my only
Source of artificial sun. I wonder when this feeling
Will revisit me. Whether it will be born through
Silence, or it's anticipation to return to the night.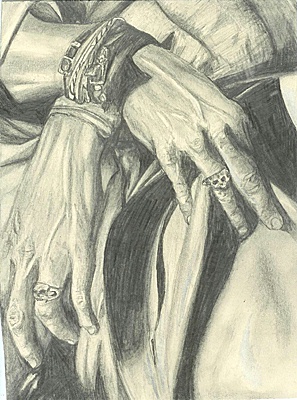 © Angela K., Kansasville, WI