Beloved
January 7, 2012
Beloved:
Not the sweetest of songs
Nor the softest of words can
Convey how much you mean to me.
You are one of my few pleasures in
Life.

To begin the day with you - Ah. It's a delight each morning
Like chocolate melting on the tongue.
My, oh my.. You are the sun.
And at night? At night you're my moon and my stars.
A constant on my mind,
Thoughts of you block out the rest of the world.

Sweet man,
You've the gift of words.
Words to make me smile, laugh, and
Words that warm my cheeks.
These words twist my stomach,
Calling forth butterflies.

My imperfections - and I have many of them - make me unique.
It amazes me so that you can stand to love me.
There are so many faults;
So many things people cannot see.
But you see them,
Don't you?

Sometimes you can be so cruel to me
And even that brings a smile forth.
I enjoy the cruelty, truly, for
Reasons I cannot comprehend and
I don't care to.
Love wasn't meant to be understood.
Love was meant to be felt.

Laying in bed late at night,
Deep in random conversation,
I feel that love.
I feel it every time my heart hammers
Against my chest or
When devotion stirs and I realize that
I want no one else.
There is no one else for me. I refuse
To accept that there could be.

Can I tell you a secret?
My fingers cannot help themselves -
They doodle your name a thousand times over in my
Notebooks,
And circle it with hearts.

Can I tell you a secret?
Sometimes,
I imagine myself sometime in the future,
With you,
And just that alone brightens my day.

Can I tell you a secret?
I'd like to spend my life with you.
I think we'd be good together;
Fun together;
Perfect...
Or as near as can be.
To be able to press my lips against yours..
Now that's heaven.

You're mine, you know.
I realize..
That this is something I've said before
And will say over again, but
I just can't seem to help myself.
Mine, mine, mine.
Sometimes I just repeat the word to myself
Before bed, smiling, because I'm just that
Astounded.
The word speaks true:
Mine.

I love you.
I truly, utterly do.
Very deeply.
And I don't think that I will ever be able to
Describe for you just how much
I love you.
So all of these worthless attempts at trying..?
These are just to give you a piece of my mind.
Nothing more.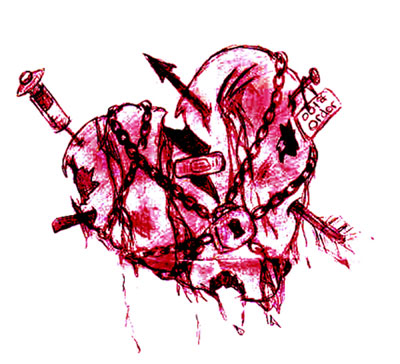 © Asia B., Hudson, MA