Silken Tears
January 5, 2012
A soft meadow
Once filled with a velvet sky
And sunning flowers.
Blue tree-tops watched over the dancing grass
While a singing stream cut through Nature's Garden.

It seemed the entire world was filled with the songs of nature
When sitting there on the warm ground.
As though life put itself on pause
Just for you.

How many times have we lay in that grass
And counted the milky clouds?
Picnicked on the single rock
High above the sky-ward green,
And ran through the meadow
Hid behind the trees.

I stare now out at the Meadow That Once Was
Stare now at the Meadow It Now Is.
No man has placed his finger upon it
And damaged its submerged beauty.
No storm has torn the grass
No drought has drained the stream.

And though no harm has come to our garden
And just our feet have touched the ground,
It's song has been muted
The love it once held has been drowned.

No longer does the sun shine from the heavens,
Instead heaven cries silk tears.
For even the earth;
Your home
Can tell you are no longer here.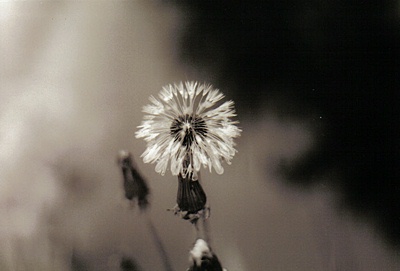 © Sarah S., Poland Spring, ME