They Are Alone
January 5, 2012
You might have noticed some kids who are different.
Some kids who can change.
Their personality is a mystery,
Because some days are normal, some aren't.
Those poor kids are deep in depression.
Yet they plaster a fake smile across their face.
So one day someone might notice, they are lonely.

You may have noticed, I bet you haven't.
Truly all they seek is to find a gentle love.
Truly all they seek
Is positive energy to block out their own negative.
Truly all they seek
Is a pat on the head to tell them,
They are cared for.
But who can prove that, while they remain unknown.

You may have noticed these lost souls.
But I can bet you haven't REALY.
I can bet you'll never know.
I can bet their still lonely.
I can believe their still lost.
I can say their still looking for something.

You might have seen them, you might have noticed.
I will say you haven't.
For the reason they change so,
Is because they know
In their hearts,
Even to themselves,
They are unknown.
Truly,
WE
Are
Forever
Lost.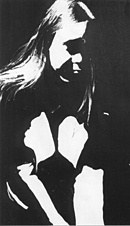 © Tabitha M., Kannapolis, NC