Zombie
December 9, 2011
Yesterday I was smiling,
my cheeks felt caked in makeup.
Rosy an lively,
my happiness was innocently
inside of me.
Then you flew in my mind,
brainless an lost.
It felt like I walked,
tens of thousands of miles.
Frankly I nurture people I can,
but I am not a man, but a boy.
A child who is lost,
"Love at first sight"
It's wonder...
Is felt from dawn to twilight.
But you weren't the only thing,
out of the pinpricks of everything.
I began to feel hysteria,
cause I knew I'd get over you.
Sadness then took a greedy share,
then I felt glum until the next day.
Demolished by who knows what,
I hack, yell, spit up slime.
Let me fall,
let me die!
I don't want to suffer,
anymore, any longer.
I promised to get my wish,
I told the lies..
Tick... Tick...
Whats got you waiting,
I keep thinking.
Its because your not there,
I am alone.
Alone with the taint,
of death.
So I'm above all evils,
only because I can't think.
All I want to do is eat
My detached body,
is a welcoming greet.
So all I do is cause fear,
for people avoiding the "disease".
I'm waiting for some soul,
to blow my "brains" out.
Can you be that person?
Look past...
Illness, ugliness, gore, guts, blood, and all else the "norms" hate...
We are not human or dead, so death is unexplainable.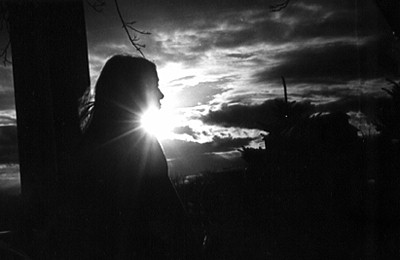 © Elizabeth G., Marblehead, MA