My Five Senses Suck
July 21, 2011
Each time I close my eyes
my entire being awakens.
The senses are wildly imaginable.
And you'll smile in your sleep
as you hear me grin widely.

I can smell the freshness
on my clean, white sheets.
And the perfume you sprayed earlier
behind your ears and on your wrists
but no scars show your pain.

I can taste the sugar
you added to the cookies you baked.
The cherry lip gloss you smothered on your perfectly crafted mouth.
But no blood from biting your lip.

I'm able to hear your giggle
as you tell me a silly joke to me.
Or your nails clacking the keys
as you type madly at your laptop.
But no muffled cries deep in the night.

I'm able to feel your soft lips
against my cold cheek as you
kiss me goodnight. You say,
"I love you."
But instead, I slam my door shut.

I still see your beautiful face
dark brown eyes and strawberry blond hair.
You reaching out to hold me
and I lean into you, crying.
But now your eyes spill, too.

And now my paper is wet
with tears of missing you.
Your bedroom door is two steps away
and I stand at my doorway at night
But your sleeping soundly.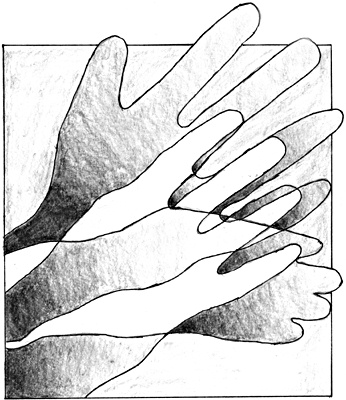 © Dawn Grace R., Barrigada, Guam