Anna's Diary
July 8, 2011
June, 2008
Dear Diary,
The imposters poison my mind,
And whisper that I'll die.
They lie to me; they say the only way I'll survive,
Is by doing what they tell me to.
These imposters are my biological family,
They are my so called friends.

The mirror (on my wall) has a big, fat mark on it,
And that mark is called Anna.
For some time now, I've been on a secret mission,
Trying to make this blot as small as I can.

"Mum" shouted at me the other day,
She said "why are you doing this?"
So I told her all about the huge stain.
Her gaunt eyes looked up at me,
A façade of salty sorrow brimmed out
And streaked across her cheek.
Quietly, her voice said to me
"What happens if you wipe too hard Anna?
What happens if you're supposed stain disappears?"
Even better, I thought.

June, 2012
Dear mum,
They shot out of the glossy magazine,
And my innocent eyes digested them.
These parasites chewed on my thoughts,
And spewed their poison into my heart.
You're gentle eyes, watched in turmoil
Whilst I ravaged myself.
I craved their skeletal figures,
Those airbrushed models in Vogue.
They were sleek, slender, and beautiful.
I was that blot on my mirror.
Thanks to you, I managed to make it.
But so many girls cease to subsist,
Paying the price for an "ideal of beauty"
Which shouldn't exist.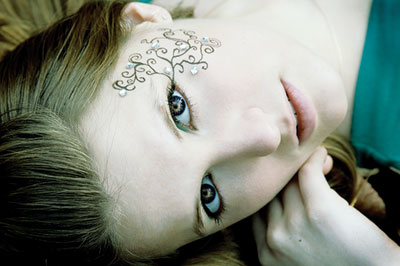 © Michelle B., Blairsville, GA