She was very Hungry
May 10, 2011
Therefore, she bit into the apple.
Almost immediately,

Red sprang onto her face.


Wails of humiliation, dissapointment.
She clothes herself in greenery and
He stumbles toward her, kissing her
Body flush with mistake. Disregards the
Clear horror in her eyes, the
Fruit in her hand, and places:

A kiss upon the face

A tear upon the cheek

A stain upon a dystopia

Fabricated on the peaceful

Face of a sleeping child.
Flying to see her doting grandparents.
She rests her head on her father's newspaper,
Dated:


September 11th, 2001.
Her memory becomes splintered and shattered,
Peaceful pieces littered across a granite pool of
Fire, compressed metal,


And people.
Her memory also litters an off-white refrigerator,

Old and used and
filled with pictures.
And the aging couple, without a TV, sits calmly by
The door. And the woman was hungry,
Therefore she bit into the apple,

Old and bruising
from a wooden basket.
Almost immediately,



She began to cry.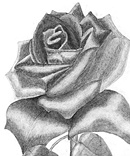 © Nghi L., Phoenix, AZ