An Ode to Liberty
February 17, 2011
I.
I have a brother and he is brown
My mother tells her son that the world is his oyster
Lay claim to all around you, she begs
And he smiles and believes in dreams that can't be scaled down.

As he gets older, like now, like 10 years old
My brother, who is brown, tall like the Sahara Desert on stilts,
Handsome like the Grand Canyon in a rainstorm
Has only the weapons of a violin and a painter's brush
And a bedroom plastered with heroes to calm his fears of the things foretold.

Maybe not his fortune, doesn't have to be
But the wails of a mother tied to the wails of another
Linking hundreds of death cries over lost sons,
Released in one year, cascading through one city
Ours
Can spook a little brown boy thinking about living.

II.
I had a friend and he made me wonder about the world
He had crawled through airless tunnels,
Crossed deserts that froze his night tears and rode in trucks with no breath
To arrive here in Our city.

We'd playfully argue
About what makes the best tamales-cornhusk or banana leaves-
And as he cleaned my mother's car, I played Lila Downs for him
To purposely make him homesick.

We arrived at the carwash one Sunday after praising God and giving thanks
Looking for Cesar,
Not just to clean our car,
But for him to teach us our colors and how to be polite in the language of his home.
He is dead, he coughed himself to death.
Too afraid to seek a helping hand to soothe the fire in his chest.

III.

I invited Alex, a Main Line girl,
To the central branch of the library,
To show off one of the treasures of my urban splendor
But her father said no
Too many homeless men encircling the square
But my mom said they were once young boys
Full of sass and young hope
Until some war ate their souls,
Made them need more than blood in their veins.

IV.
I have a stick; it's more like a wand
I use to tickled Liberty, to play with it
To woo it from its safe havens
And to beg for it to come where I am and spread some love.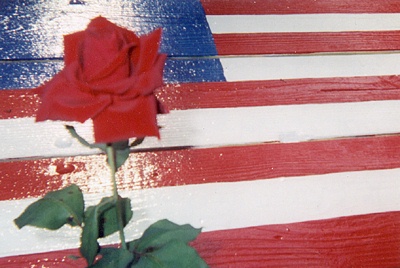 © Elizabeth H., Gulfport, MS