Love in Winter
February 8, 2011
The buzz of our alarm clock at sunrise
marks the inception of an ordinary day.
We rise, our lungs itching for a yawn,
lug ourselves into the kitchen
where cold creeps in at night
only to scuttle away from our footsteps at dawn.
Coffee from the pot by the fridge,
milk from the top shelf -
but it splashes onto the counter top.
In my tired daze I reach for a sponge,
only to find your hand there already,
mopping up the spill,
and your tired, crooked smile.

Rarely do we break routine:
rise early, retire late, and in between,
chapped hands grasp chapped hands,
soft lips press against soft lips.
Then, January imprisons our city in ice,
light bouncing through our frosted window panes
and speckling our skin -

so we curl up in bed
and tally our freckles, our scars.
Outside, cars sit entrapped by sidewalks stacked with ice -
inside, we step into the shower, your laughter soft in my ear,
letting the scalding water rush against our shoulderblades
as we watch the glass fog up around us.

Another day passes and I wake to your face.

I have lived through autumns, summers, and springs,
and I have found nothing so precious as this:
coffee rising into wisps in the raw February air
and the shape of your smile
outlined against the pale morning light.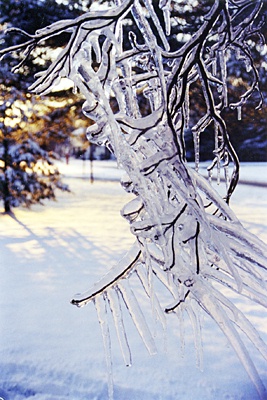 © Robert S., Stoughton, MA