rain, rain, go away
November 15, 2010
Rain reminds of too many things.
Clouds gather. My breath hitches
as too many memory clog the air.
I can't help but count each one.

4.

When we still sucked our thumbs,
my mother lugged the kitchen chair
to the screen door. Shushing us
with eyes closed, breath slowed,
she leaned toward the screen,
unconsciously, instinctively.
Rain splattered onto our deck.
"Mommy, won't my trike get rusty?"
I asked. Mommy didn't hear.

3.

Indoor recess: my favorite.
My teacher, determined to make a socialite
out of a bookwormish second grader,
scolded me from my book,
forced me to play with the others.
I waited until she wasn't watching,
scampered away from Monopoly
and faces I cared not for.
Rain drizzled, softly, gently,
as if it knew not to disturb me
when I had a chapter to finish.

2.

The storm struck, quick, vicious,
and caught us at the bus stop,
drowning our socks
in the muddy roadside water.
We dove into the car, laughing;
drank hot chocolate at home.
Curled up in my blanket,
I looked out the kitchen window.
Thunder boomed. At ten years old,
it still made me shiver.

1.

I gasped awake, thoughts shifting
like snakes in the darkness.
The alarm clock winked,
radiating a soft red light
from across the room.
The ceiling shook with thunder
and rain like bullets on the roof.
I couldn't fall back asleep.

0.

The weatherman forecasts rain all week.
Lightning strikes fast and loud,
like everything I can't forget,
and I reach for my umbrella.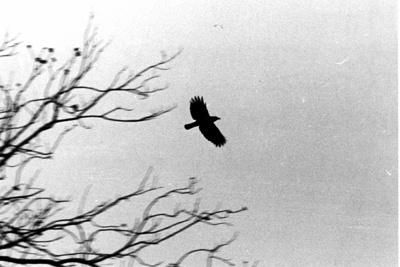 © Jacqueline T., Flowermound, TX